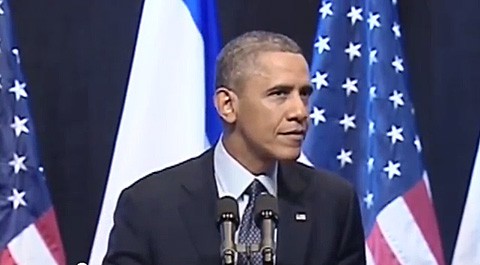 President Obama was heckled during a speech to Israeli students today at the International Convention Center in Jerusalem.
Said Obama after letting the heckler quiet down:
"This is part of the lively debate that we talked about…I have to say we actually arranged for that because it made me feel at home. I wouldn't feel comfortable if I didn't have at least one heckler."
Watch, AFTER THE JUMP…
The WaPo reports:
The man was shouting in Hebrew. According to a White House pool report, he was referencing Jonathan Pollard, an American who pleaded guilty in 1986 to passing top-secret information to Israel.
And here's the NYT report on the "enthusiastically welcomed" speech.