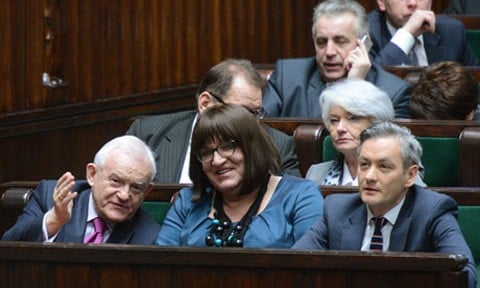 Poland's first gay lawmaker Robert Biedron (right) and first transgender lawmaker Anna Grodzka took seats in the front bench of Parliament today as a protest of Lech Walesa's remarks earlier this week that gays have no right to sit there, and should even be kept "behind a wall".
Both are members of the progressive Palikot's Movement party, and party leader Janusz Palikot arranged for the two to sit in, relinquishing his own seat to Biedron.
"Lech Walesa is an important symbol for us all and for the whole world," Biedron told the Associated Press before attending the session. "I respect him and I'd rather he used other words – words of acceptance and of respect for other people."
…The first row in the semi-circular lower chamber, or Sejm, is reserved for party leaders and prominent lawmakers. Biedron and Grodzka – who have been in parliament since 2011 – usually sit in the third row.
Walesa said this week he would not be apologizing for his remarks.
"I will not apologize to anyone," the former president said in an interview Monday. "All I said (was) that minorities, which I respect, should not have the right to impose their views on the majority. I think most of Poland is behind me."