Gay L.A. City Council candidate Mike Bonin has won his District 11 race, replacing his boss Bill Rosendahl in the seat, the L.A. Weekly reports: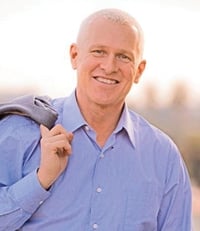 With 100 percent of precincts reporting, Bonin earned 17,566 votes or 61.19 percent. Since he grabbed more than 50 percent of the vote in the primary, there will not be a runoff for CD 11, which covers neighborhoods on the Westside.
When Rosendahl announced that he was not running for another four-year term, Bonin quickly jumped into the CD 11 race and grabbed numerous major endorsements from politicians, neighborhood groups, and labor unions.
The paper also reports:
Bonin is one of several gay candidates across Los Angeles who made an impressive showing on Tuesday night. Others include L.A. City Controller candidate Ron Galperin, who will face Dennis Zine in a May runoff, and L.A. Council District 13 candidate Mitch O'Farrell, who heads to a runoff as well. Underdog mayoral candidate Kevin James is also gay.
James and Councilwoman Jan Perry were in a dead heat for third in the mayoral race, which will be a run-off between City Councilman Eric Garcetti and Controller Wendy Greuel:
The top-two finishers in Tuesday's election will face off in what is expected to be a bruising May 21 runoff. Only 16% of the city's 1.8 million registered voters cast ballots in the election.
Standing on a stage lined with supporters Tuesday evening, Garcetti thanked the those in the crowd for their help and said he's ready to get to work on winning the runoff election in May. Garcetti held a slim margin over Greuel and a significant lead over the six other candidates in the mayoral race, returns showed.