A new Quinnipiac poll shows strong support for marriage equality in New Jersey: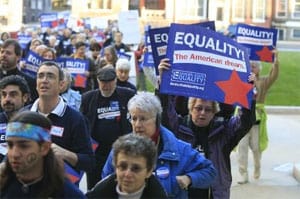 By a 64 – 30 percent margin, voters support a law allowing same sex couples to marry. Men support same-sex marriage 60 – 32 percent, with a larger 68 – 28 percent support among women. Support by age ranges from 56 – 38 percent among voters over 55 years old to 80 – 17 percent among voters 18 – 34 years old.
New Jersey voters say 72 – 22 percent it's a good idea to decide the same-sex marriage issue by referendum on the November ballot.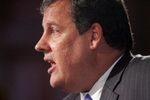 Also, strong support for Chris Christie:
Christie leads State Sen. Barbara Buono, his likely Democratic challenger for reelection, 60 – 25 percent, also continuing a string of 2-1 leads over the largely unknown Sen. Buono. Voters also say 66 – 25 percent, including 44 – 43 percent among Democrats, that Christie deserves reelection, also continuing a trend.
Slate notes:
What was happening a year ago? New Jersey Democrats had given Christie a gay marriage bill, and he'd vetoed it. Gay marriage is way down the issue priority list in the state (1 percent of people say it's the key factor in their votes) but it's a wedge issue that Christie chose the wrong side of.