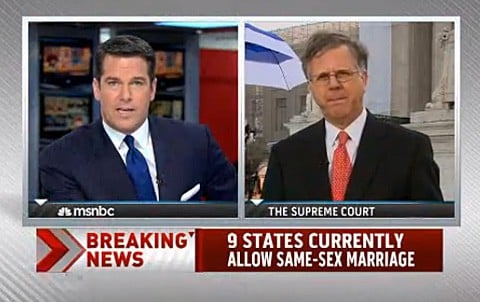 NBC's Pete Williams, who was in the courtroom, tells Thomas Roberts that the Supreme Court is "not prepared to issue any kind of sweeping ruling about gay rights" and that it's likely they'll limit their ruling to California. He also notes that it's "risky" to make any kind of an assessment simply based on oral arguments.
Watch, AFTER THE JUMP…
Our legal expert Ari Ezra Waldman has posted his analysis of today's arguments. Read his take on their questioning of Prop 8 proponents HERE, and opponents (Ted Olson's argument) HERE.
And listen to the audio and read the transcripts of today's arguments HERE.
(via the new civil rights movement)