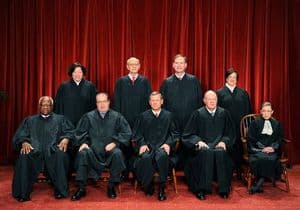 On Tuesday and Wednesday, March 26 and 27, the Supreme Court will hear more than 3 hours of arguments in the challenges to the constitutionality of California's Proposition 8 (Hollingsworth v. Perry) and the Defense of Marriage Act (Windsor v. United States). In a series of short posts, I will preview and summarize the legal issues that will be raised. In this post, some general questions to consider.
The expectations are high and the anticipation is palpable. Eager citizens have been camping out at the Supreme Court for days. Rallies are planned, the lawyers are ready, and Chief Justice Roberts is hours away from leaning forward in his center chair and say
"We'll hear argument first this morning in Case 12-144, Hollingsworth v. Perry. Mr. Olson…"
at which point Ted Olson, President George W. Bush's solicitor-general, will begin his argument that California's Prop 8 violates the U.S. Constitution. It a law nerd's March Madness, just with shorter men and longer sleeves.
Having covered questions of standing (in Prop 8 and DOMA), scrutiny, and equal protection, we are now well prepared to understand what will happen at the Court tomorrow and in June, when decisions will be handed down. For now, I'd like to take a step back from the legal details and offer some perspective and highlight a few questions to keep in mind. From these questions, one thing seems clear: this show has many stars — Olson, David Boies, Ted Boutrous, Edie Windsor, Kris Perry, Sandy Stier, Paul Katami, Jeff Zarrillo, to name just a few — but the show will end with three stars shining above the rest: Chief Justice Roberts, Justice Kennedy, and the American people.
Some final thoughts about what to expect tomorrow and Wednesday, AFTER THE JUMP…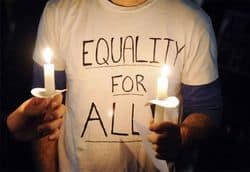 1. Will it matter that 58% of Americans now support the freedom to marry?
Technically, the law is supposed to be insulated from the ebbs and flows of public opinion, but we all know that's not the case. Plus, there is no ebb and flow when it comes to the freedom to marry. The remarkable story of social progress over the last 10 years has shown a steady increase in the number of Americans supporting our right to marry. For Americans under 30, this is an 80-20 issue. Young Republicans even show broad support for marriage. If the last chapter of the story has yet to be written, the writing is certainly on the wall.
This evidence shows that there is an "emerging consensus" in favor of the freedom to marry. Throughout the history of the Supreme Court, as former Justice Sandra Day O'Connor stated several times, that "emerging consensus" is often reflected in Court decisions and is usually a prerequisite for important, socially-relevant cases.
Public opinion may also play a role in swaying some of the justices that sit on the fence. Let's see how the 58% may impact two important players: Justice Kennedy and Chief Justice Roberts.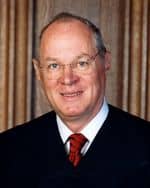 2. What will Justice Kennedy do and are we completely reliant upon his opinion?
Justice Kennedy has been an ally, effectuating nothing less than a revolution of gay rights in this country with his decisions in Romer v. Evans and Lawrence v. Texas. He likes states' rights and gay rights, as NYU Law Professor Kenji Yoshino likes to say. So, the Reagan appointee should be a natural ally on DOMA, which impinges both, and on Prop 8, which could be decided narrowly so as not to upend marriage bans across the country.
Justice Kennedy has also shown a willingness to listen to public opinion in a neutral way, even citing it in several decisions during his tenure. By contrast, Justice Scalia is a partisan opportunist when it comes to public opinion: choosing to listen to it when the public supports his conservatism and decrying or minimizing it, as he did with the reauthorization of the Civil Rights Act, when he disagrees with it. 
But, although I think Justice Kennedy will be on our side, I don't think he will be the only one.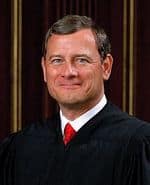 3. What about Chief Justice Roberts?
Chief Justice Roberts is a dyed in the wool conservative, a religious man who has shown a penchant for right-wing activism on the Court. And some progressives are nervous that the Chief Justice built up some political capital by upholding the Affordable Care act (though he did so while striking a win for conservative legal dogma), thus allowing him to buck the public an uphold DOMA and Prop 8.
But, he is also a young man who will most likely be sitting in his center chair for at least 20 years. As Richard Socarides asked on the New York blog and Emily Bazelon asked in Slate, is the Chief Justice willing to be remembered for a decision that will quite obviously be seen as backward, bigoted, and hateful in less than 20 years?
4. Will the ghost of Roe v. Wade impact the decision?
Roe is an important decision that enshrined a constitutionally protected right to choose, but even some progressive scholars — including Justice Ginsburg — believe that Roe was decided on an improper framework and may have been decided too soon. It caused a backlash; being anti-choice defined conservatism for decades (before the gays came around to scare traditionalists) and resulted in an effective counter-offensive. Just recently, for example, Arkansas passed the most restrictive anti-choice law in the nation, overriding the state's Democratic governor's veto.
Both progressive and conservative justices might be nervous about going too far, like mandating a national right to marry that erases all marriage bans with the snap of Justice Kennedy's fingers. We know that the freedom to marry is universal, but going too far too quickly could do political and legal damage to the ultimate cause. Look for several justices across the political spectrum to ask quesions about how they could narrow the scope of their pro-equality decisions.
5. Which outcome is most likely?
There are so many possible outcomes. Both cases could be thrown out on standing grounds, or one case could, or neither case could; Hollingsworth could be narrowed to just the plaintiffs or California or to 8 states or to the entire country; Windsor could apply to just Edie and to no one else; the appropriate level of scrutiny could be decided for either heightened scrutiny or rational basis, or not decided at all. And, DOMA and Prop 8 could still be upheld.
I am loathe to predict what the brilliant, but unpredictable Court will do. But, I cannot conceive of a world where either DOMA or Prop 8 still exist after the end of June 2013. 
Conclusions
Amid all the talk of marriage, exhortations of bigotry, remarkable progress toward a national pro-equality consensus, and smart predictions about who will decide what, we should not miss the forest for the trees. Just three years ago, few of us would have predicted that the freedom to marry would be at the Court so soon, and with such a good chance of winning. Some were worried that a California marriage case was premature; some were also worried that the country was not ready to have a debate about gays marrying. But, the expressive and persuasive effects of august federal courts declaring marriage bans and DOMA unconstitutional got us to where we are today. That, combined with the work of Freedom to Marry and the marriage coalitions, Obama's fierce advocacy, and a political and generational shift catalyzed by the President's reelection contributed to our victories in the hearts and minds of Americans.
MORE PREVIEWS OF THIS WEEK'S SCOTUS ARGUMENTS:
The question of 'standing' in the Prop 8 case [tlrd]
The question of 'standing' in the DOMA case [tlrd]
Supreme Court Preview: 'Scrutiny' in the DOMA and Prop 8 Cases [tlrd]
Supreme Court Preview: Equal Protection in the DOMA and Prop 8 Cases [tlrd]
Make sure not to miss a Towleroad headline by following @TLRD on Twitter.
***
Ari Ezra Waldman teaches at Brooklyn Law School and is concurrently getting his PhD at Columbia University in New York City. He is a 2002 graduate of Harvard College and a 2005 graduate of Harvard Law School. His research focuses on technology, privacy, speech, and gay rights. Ari will be writing weekly posts on law and various LGBT issues. You can follow him on Twitter at @ariezrawaldman.