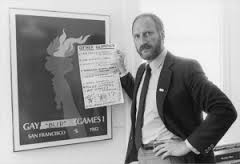 A San Francisco Supervisor angry at Nobel Prize Winner Lech Walesa's homophobic remarks earlier this month says she wants to rename the street that bears his name, the Mercury News reports:
Supervisor Jane Kim said she is seeking to rename Lech Walesa Street, a small alleyway located between Grove and Hayes streets and Van Ness Avenue and Polk Street.
Walesa, who won the Nobel Peace Prize in 1983 after co-founding the Solidarity independent trade union movement in Poland, made controversial comments in a TV interview on March 1, saying gay people should not be allowed to hold prominent political posts.
Kim, whose district includes Lech Walesa Street, said she is considering renaming the street after Tom Waddell, a gay activist, or reverting back to the alleyway's previous name of Ivy Street. The Tom Waddell Health Center, which includes a transgender clinic, is located on Lech Walesa Street. Waddell worked at the clinic and also created the Gay Olympics, later renamed the Gay Games, Kim said.
Waddell died in 1987 of AIDS-related causes in 1987.
Kim says she will do LGBT outreach on the issue and make her decision.