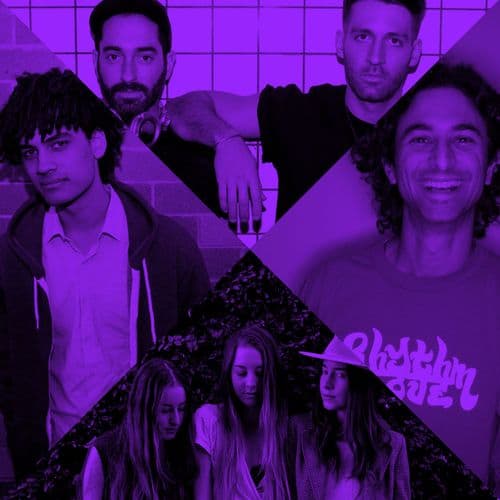 BY OCCUPY THE DISCO / RU BHATT
The OXD Mirror is a weekly music column brought to you by the boys of OCCUPY THE DISCO (OXD), a New York City based collective created by three music lovers, Ru Bhatt, Josh Appelbaum, and Tadeu Magalhães, who want to share their love for disco, house and dance music with the world.  
Nickodemus: 'Los Tarantos'
When I first heard this track, while listening to Tensnake's phenomenal Essential Mix for BBC Radio 1, my jaw hit the floor. I instantly recognized samples from two huge Bollywood hits, 'Har Kisiko Nahin Milta (Not Everyone Will Find Love)' & 'Pyar Do, Pyar Lo (Give Love, Take Love).'  While Bollywood frequently "borrows" samples from Western songs, it's rare that the opposite happens, especially on a track that would pass Tensake's muster. Inspired by lovers on a journey from Rajasthan to Barcelona, NYC's Nickodemus (née Nick DeSimone) adds some flamenco-driven flair to the Bollywood-influenced track by including a Spanish guitar & horn section.  The result is a languid melodic tune that connects the lovers via music despite being separated by circumstances beyond their control.
Rufus: 'Take Me (Cassian Remix)'
'Take Me' is the lead single off of the Australian trio known as RüFüS' debut album, Atlas. While the production on the original song is light and warm (see the video), fellow Aussie producer Cassian draws from the song's melancholic verses to create a darker production that still maintains the pop elements of the original. The deep rolling bass and catchy vocals are dance-inducing, creating a perfect "end of summer" tune for those down under. Luckily for us, it serves nicely as a "warm up to spring" tune as well.
HAIM – 'Falling (Duke Dumont Remix)'
If you've read our column before, you know I'm a huge Duke Dumont fan. Hot off of the heels of the success of 'Need U (100%)' (and its amazing remixes), Dumont tries his hand at California-based HAIM's catchy 80s inspired single, 'Falling.' With this remix Dumont steps away from the bass heavy production he's known for and creates a more mellow, groovy, and yet, danceable tune that shows he's certainly not a one-note. Many music blogs have already pegged the trio of sisters known as HAIM to become a massive act in 2013, and pairing up with the likes of Dumont will hopefully launch both musical acts into the stratosphere.
CONTINUED, AFTER THE JUMP…
Jesper Samuelson – 'Miss Velvet'
Sweden's Jesper Samuelson produces deep and warm house music with a soulful vibe. His remix of Dumb Dan's 'Ele' originally caught my ear with it's effusive production complete with cascading house pianos. With 'Miss Velvet,' Samuelson continues on the summery trend with a dreamy, air-filled production with echoing pianos on this daytime disco track.
Paul Simon – 'You Can Call Me Al (Flight Facilities Remix)'
Paul Simon's 'You Can Call Me Al' is a tune almost every sports fan knows, mostly because of the iconic horn section thats used to celebrate victories. When I learned that the Australian musical act Flight Facilities decided to remix it, I thought it was an odd choice and was immediately intrigued. The re-work is a fun club friendly track that's sure to bring up nostalgic feelings on the dancefloor. It turns out this remix is part of an ambitious project where the band takes you on a chronological musical journey from 1972-2012 through a series of four mixtapes. The band has not only included the hits from each year but they have also featured songs that sample those tracks as well as soundbites from contemporaneous current events around the world. It's a must listen activity for any music fan with an appreciation for history. Read more about the project here.
Donkey: 'Boss' & 'Sessions 002' Mixtape 
NYC native producers, DJs, and friends, Josh Sparber & Mikey Fuentes make up the NYC musical act known as Donkey. Having known both Sparber and Fuentes for years, and sharing many a dancefloor with them, I was excited to learn that the disco and house aficionados were teaming up to produce music. Their latest mixtape, 'Sessions 002,' opens with a Donkey original track, 'Boss.' The song is a churning deep house banger with chopped up vocals that will keep you dancing through the night. Right now the track is only available on their mixtape (which is a free download), but I encourage you to keep listening past the 4 minute mark for songs from many other OXD Miror worthy artists such as Bicep, Nick Curly, Infinity Ink, Armando, Hard Ton, Waze & Odyssey and more (the full tracklist is on their soundcloud page). Also, If you're in New York this Saturday join us as Donkey will be guest DJ-ing at Carry Nation's party at The Spectrum in Brooklyn.
OCCUPY THE DISCO (OXD) curates and recommends music events to the gay community in NYC—in an effort to move the focus of the nightlife scene beyond the promoter and venue and to the music itself. OXD's goal is to educate, entertain, engage and empower the gay audience to reclaim their ability to question and experience the unknown. The OXD Mirror will serve to showcase tunes that are definitely off-the-beaten-path but rightfully deserve the attention of the gay ear. It's music that will make you dance, dream, and most importantly, love.
This week's post was written and curated by Ru Bhatt. Check out more of his music picks on his podcast, The Ru-Mix.

Be sure to check out these tracks and more on our Spotify Playlist. For more information on OXD, check out our website and accompanying blog at www.occupythedisco.com, like us on Facebook, or follow us on Twitter: @OccupyTheDisco.