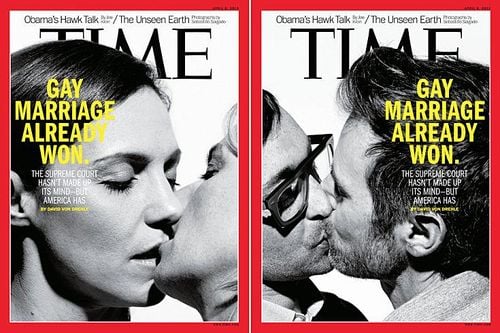 Earlier this morning I posted TIME magazine's latest cover on gay marriage.
The magazine has now posted some backstory:
To illustrate Von Drehle's story, TIME invited same-sex couples in California and New York to share some intimate moments for photographer Peter Hapak. Two of these couples, Sarah Kate and Kristen Ellis-Henderson (married in 2011) and Russell Hart and Eric LaBonté (engaged since 2010), appear on our cover this week.
TIME has also posted a slide show of many of the photos.
Some of the couples who participated in the TIME cover shoot are married and all are in long-term committed relationships. Jake Harrison (below), who was photographed with his partner Christopher Cunningham, is among those happily stunned at how quickly U.S. culture has shifted to embrace same-sex couples. "Growing up, there really weren't gay characters on TV," says Harrison. "To go from that to gay people on primetime television and out gay politicians is a huge evolution."
TIME says its newsstand editions will be split between the male and female covers.
And here's the cover story…