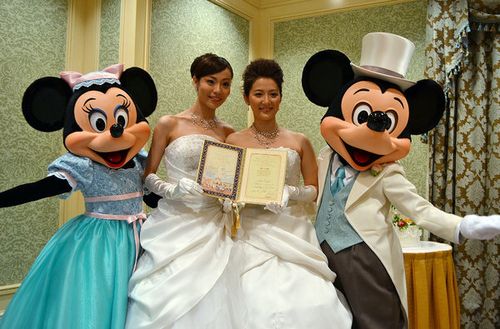 Tokyo's Disneyland hosted a gay wedding on Friday which went viral on social media there, the NYT reports:
"My partner Hiroko and I just held a gay wedding at the Tokyo Disney Resort. Even Mickey and Minnie are here to celebrate with us!" Ms. Higashi, 28, wrote in a Twitter post that also had a picture of the newlyweds posing with the big-eared Disney characters and a flower-festooned cake. Her entry was reposted more than 6,000 times, drawing largely positive responses.
"Congratulations," replied Masaki Koh, a Japanese gay porn star. "Your wonderful wedding will bring inspiration and hope to many people who still hesitate to take the first step. I was also encouraged that Tokyo Disney Resort was so understanding."
The lead-up to the wedding was not all smooth sailing, however:
She reported on her blog and on Twitter that she had inquired about weddings at Tokyo Disney Sea, a part of the Disney Resort. But when it became apparent to the organizers that her partner was female, Ms. Higashi reported, she was asked if one of them could wear a tuxedo — so that other visitors to the park would not feel uncomfortable.
Her posts set off the first stir on Japanese social media sites.
A week later, the organizers at Milial Resort Hotels, a subsidiary of the company that runs Tokyo Disney, got back to Ms. Higashi with good news: both brides were welcome to wear wedding dresses (or both tuxedos, for that matter). "Mickey Mouse supports gay marriage!" Web headlines declared.