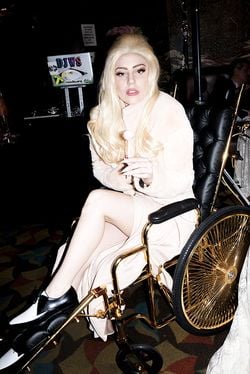 PHOTO OF THE DAY: Gaga even finds away to make hip rehab seem ostentatious.  
BY SAM GREISMAN
A look back at today's top stories
GAY ISSUES
Progress in Minnesota where state Senate panels and House panels have voted to move a marriage equality bill to a floor vote. There were pro-rights supporters and wingnuts abound at the marriage equality hearings in the state today; more on the wingnuts later, but check out this former lawmaker's stirring plea that they don't make the same mistake she did. Great news too in Colorado where the House has given a civil unions bill it's final approval, meaning that the Governor will now sign it into law. 
Our Ari Waldman takes a minute to make sure we know our enemy by analyzing the briefs presented to the Supreme Court in support of Prop 8 and DOMA. Check out AIDS Ride founder Dan Pallotta giving a powerful TED talk about how he wants to reform charity. Also, watch out because Facebook has really good gaydar. 
**
WINGNUTTERY
There were some less than positive moments at the aforementioned marriage equality hearings in Minnesota. Some random wacko named Mike Frey decided to give a foul and overly detailed description of anal sex as some kind of proof that gay marriage is wrong. And yesterday, a bigoted lawmaker took some time to introduce everyone to his "ex-gay" pal. 
**
VIDEO OF THE DAY
A Vanderbilt student experienced what he calls "the greatest moment of [his] life to date" when he got to accompany Billy Joel on piano.