You missed quite a bit over the weekend on Towleroad if you were chillaxing elsewhere.
Sony Pictures Chair AMY PASCAL said she wanted to get rid of "fag", dyke", and other such slurs in movies. RICK PERRY took a shot at MADONNA for wearing the BOY SCOUTS uniform. MICHELLE SHOCKED threatened to show up at her concert but never did.
GLAAD altered its name and mission statement.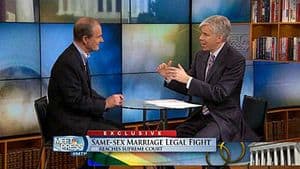 SARAH PALIN wore a super-tight Chick-fil-A t-shirt to a basketball game. TWO POPES came together for a hug and some praying. A man was sentenced to three years in prison for lighting a gay autistic teen (who later died) on fire. and TILDA SWINTON slept in a box at the MOMA.
STARBUCKS CEO HOWARD SCHULTZ, who told a shareholder to take a hike if he didn't like the company's pro-gay policies? There's VIDEO of it now!
And, in MARRIAGE EQUALITY AND THE SUPREME COURT:
Our legal expert ARI EZRA WALDMAN penned a few more SUPREME COURT
PREVIEW columns for you including one on STANDING in the DOMA case and SCRUTINY in DOMA and Prop 8.. 
CALIFORNIA ATTORNEY GENERAL KAMALA HARRIS said "50,000 children in California are aking, 'why can't my parents be married too?' … KARL ROVE says he can imagine a 2016 presidential candidate supporting GAY MARRIAGE … Freedom to Marry's EVAN WOLFSON schooled TONY PERKINS on FACE THE NATION …. PROP 8 Attorney DAVID BOIES laid out the Supreme Court Case on 'Meet the Press' … RAND PAUL said he wouldn't mind a 'neutral' government on same-sex marriage.
HUNDREDS OF THOUSANDS protested same-sex marriage in PARIS, some rioted, using children as human shields.
NEW YORK held a rally and a VIGIL.
Make sure not to miss a Towleroad headline by following @TLRD on Twitter.
You can also follow us on Google+ HERE.
And follow Andy Towle on Facebook HERE. And our page HERE.