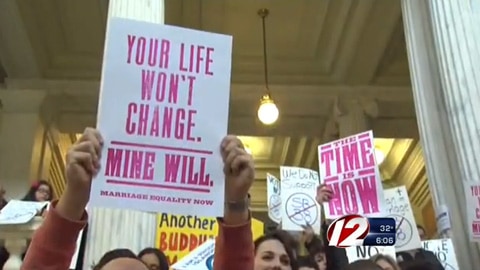 Hearings before the Senate Judiciary Committee on a marriage equality bill lasted 12 hours continuing to the early hours of the morning. The panel was only expected to hear testimony and not take a vote yet on the legislation.
The Providence Journal reports:
Supporters and opponents of gay marriage offered testimony at a Senate hearing through the night, finally concluding at about 5 a.m. Friday morning.
As of about 4 a.m., 9 of the 10-member of the Rhode Island Senate Judiciary committee were still listening to testimony at the hearing, according to Ray Sullivan, campaign directory for RI United, a group that supports same-sex marriage.
The testimony ended at 4:57 a.m., Sullivan reported via Twitter.
The hearing began Thursday when supporters and opponents of gay marriage packed the Rhode Island State House for what supporters hope is the last legislative hearing before lawmakers decide whether to join the rest of New England in allowing gay and lesbian couples to wed.
Watch WPRI's report on the hearings, shot earlier yesterday, AFTER THE JUMP…
Hundreds testify at 12-hr same-sex marriage hearing