Conservative activist and former presidential candidate Alan Keyes compared gays wanting the right to marry to a nose-picker wanting the right to eat his boogers in a talk at Spring Arbor University in Michigan on Wednesday, MLive reports: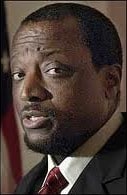 Keyes said while abortion, same-sex marriage and separation of church and state are not basic human rights there are leaders who are trying to "fabricate" rights.
"People who sit on the U.S. Supreme Court take it among themselves to argue that somehow there should be separation of church and state," he said. "Nothing in the Constitution requires separation, nor could it because we cannot separate the country from its finding premise without destroying it."
When arguing what a fundamental right actually is, Keyes gave an offbeat example of a young child who had a habit of "picking in their nostrils and "eating what came out."
As the child grew up they noticed others were disgusted and did not want to be near him. As an adult the individual argued if others have the right to eat what they want, the individual should be recognized as having the same right.
"How many think that is a fundamental right?" he asked the audience.
In a separate interview with Stan Solomon, Keyes said gay marriage would lead to communism and the "murder of the masses," Right Wing Watch reports:
The aim is not compassion for homosexuals, respect for homosexuals and all of this; the aim in the mind of these hardheaded, calculating, leftist, Communist, totalitarians is to destroy the family and to establish the notion that once you have seized power there is no limit whatsoever to what you can do. If you want to tolerate abuses then those abuses can be imposed upon the people. Once you establish that, the abuses are then not going to be confined to egregious outrages like this; those abuses are going to be committed against the whole society and they will in the end include the murder of the masses as has occurred in all Communist regimes that existed.
Listen, AFTER THE JUMP…