Edward Peters, a Detroit professor and legal adviser to the Vatican, and the archbishop of Detroit, Allen Vigneron (pictured), are telling Catholics who support same-sex marriage that they are not welcome to take communion, the Detroit Free Press reports: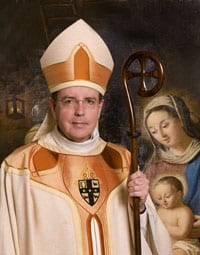 In a post on his blog last week, Peters said that Catholic teachings make it clear that marriage is between one man and one woman. And so, "Catholics who promote 'same-sex marriage' act contrary to" Catholic law "and should not approach for holy Communion," he wrote. "They also risk having holy Communion withheld from them … being rebuked and/or being sanctioned."
Peters didn't specify a Catholic politician or public figure in his post. But he told the Free Press that a person's "public efforts to change society's definition of marriage … amount to committing objectively wrong actions."
Archbishop Vigneron agrees:
And the archbishop of Detroit, Allen Vigneron, said Sunday that Catholics who receive Communion while advocating gay marriage would "logically bring shame for a double-dealing that is not unlike perjury."
UPDATE: Jeremy Hooper notes that Ed Peters is the father of Thomas Peters, Communications Director for the National Organization for Marriage (NOM).