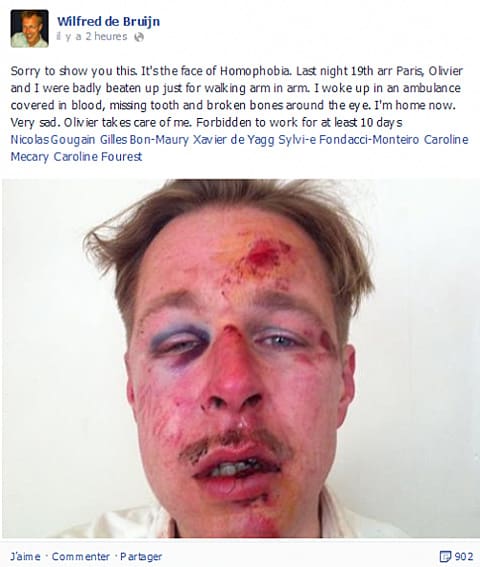 Wilfred de Bruijn and his boyfriend were beaten in Paris for walking arm-in-arm, The Local reports:
According to de Bruijn, he was attacked with his boyfriend in the 19th arrondissement of Paris on Saturday night simply because they were gay. France's gay rights groups say the savage beating comes as homophobic incidents are on the rise.
They blame the increasingly radical and stubborn anti-gay marriage movement.
Hours after being subjected to the beating, De Bruijn put the photo on his Facebook page. It has since been shared thousands of times across social media.
"Sorry to show you this," the victim wrote. "It's the face of homophobia. Last night 19th arrondissement, Paris, Olivier and I were badly beaten just for walking arm in arm. "I woke up in an ambulance covered in blood, missing tooth and broken bones around the eye. I'm home now. Very sad."
France's Senate is currently considering a marriage equality bill. Two weeks ago hundreds of thousands turned out in Paris from all over France for a demonstration against the proposed law. The anti-gay march sparked violent riots with police.