A new report released yesterday from the Church of England recommended gay couples in civil partnerships be able to receive blessings, the Telegraph reports: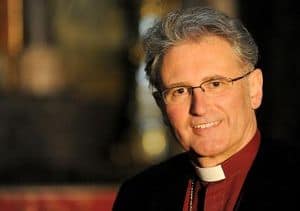 The senior bishop who drafted the missive to priests insisted that it did not amount to a policy u-turn and that an official ban on formal "blessings" for civil partnerships remained in place. But he said it was clear there was a need for committed same-sex couples to be given recognition and "compassionate attention" from the Church, including special prayers.
The paper adds:
The report by the Church's Faith and Order Commission, chaired by the Bishop of Coventry, the Rt Rev Christopher Cocksworth, a leading traditionalist, insisted that marriage should remain between a man and a woman and said that gay relationships fell short of God's "ideal".
But it also condemned "censorious judgment" and urged priests not to treat the issue of recognising civil partnerships as "simply closed", urging them to approach the question on a case-by-case basis.
"In pastoral responses a degree of flexibility may be called for in finding ways to express the Church's teaching practically," it said.