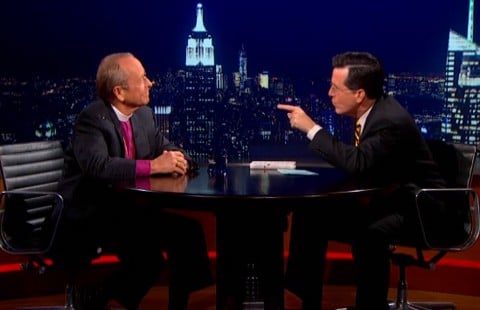 Stephen Colbert grills Bishop Gene Robinson, the Episcopal church's first gay bishop, saying that he finds the 'schism' Robinson created within the church "delicious." Colbert also quibbles with the signs sprinkled about every town that say "The Episcopal Church Welcomes You", adding, "It doesn't seem exclusive that way. It doesn't seem that cool of a club if anyone could be part of it."
Also on the table: Leviticus and gay marriage. Robinson has a new book out, God Believes in Love: Straight Talk About Gay Marriage.
Robinson: "We're asking did the church get it wrong about gay, lesbian, bisexual and transgender people. I think the answer is yes."
Watch, AFTER THE JUMP…