The leaders of 13 social conservative (and hate) groups including Tony Perkins of the Family Research Council, Phyllis Schlafly of the Eagle Forum, James Dobson of Family Talk Action and Marjorie Dannenfelser of Susan B. Anthony List have sent a letter to Republican National Committee Chairman Reince Priebus (pictured) demanding the RNC reaffirm suppport for DOMA and a federal constitutional amendment banning same-sex marriage.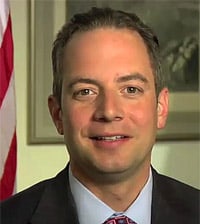 As I mentioned yesterday, the RNC, which is holding a three-day confab in L.A., plans to vote Friday on a similar measure submitted by state party leaders.
The WaPo reports:
"Republicans would do well to persuade young voters why marriage between a man and a woman is so important rather than abandon thousands of years of wisdom to please them," they write. "We respectfully warn GOP Leadership that an abandonment of its principles will necessarily result in the abandonment of our constituents to their support."
The group argues that existing gay GOP groups such as the Log Cabin Republicans and GOProud shows that there is no need to change party orthodoxy to create a bigger tent. "We deeply resent the insinuation that we have treated homosexuals unkindly personally," they write.
They also suggest that better communication with social conservatives, "the experts on how to articulate those positions," would have avoided some of the gaffes made by Republican candidates last year.