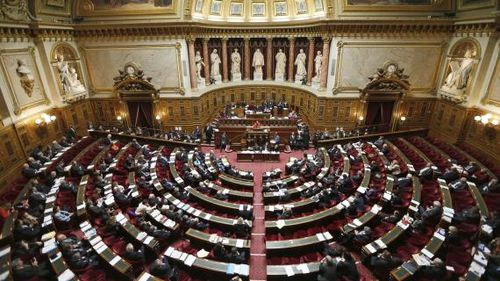 The French Senate today approved Section 1 of its marriage equality bill in a vote of 179 to 157. Section 1 removes the requirement for different genders as a condition of the right to marry.
The bill was adopted after more than 10 hours of discussion. The National Assembly has already passed it 329-229 and according to AFP will not need to see it again.
Looks as though marriage equality is going to happen in France!
The Local reports:
The article was adopted by a majority of 179 to 157, following 10 hours of debate on the floor of the Senate. Five senators from the centre-right opposition UMP defected from their party and voted in favour of the article. Radicals senators, from the RDSE (European Democratic and Social Rally), had one vote against the article, and four abstentions. The remainder of the left in the Senate were united in voting in favour.
Despite the efforts of gay marriage opponents in the chamber, the article was also passed 'conforme'— that is, without any modifications, or amendments, and on the first vote, which means it will not have to go back to the lower house. While Tuesday night's vote does not formally cement gay marriage in French law, the Senate would now have to reject the entire bill, to prevent it becoming definitive, however that now appears unlikely.
Another crucial vote will be held on the whole bill in a matter of weeks, but rejection looks unlikely. Full passage would make France the world's 12th country to legalize same-sex marriage.