A look back at today's top stories
GAY ISSUES
Conservative pundit (and usual wackjob) Glenn Beck has joined the growing number of right-wing voices who are conceding that the marriage battle may be lost. Beck says the argument is about freedom. Following yesterday's video in which he discussed coming out to his "ex-gay" therapist father, activist and writer Richard Socarides sat down with MSNBC's Thomas Roberts to discuss the gay son and father relationships that have been in the news lately. 
Check out this emotional plea from an openly gay lawmaker in Montana to his fellow State Senators asking them to vote to decriminalize homosexuality in the state. And Jon Stewart takes a look at the evolution of the Senators who have recently rushed to join the marriage equality bandwagon. 
**
WINGNUTTERY
Mark Pryor of Arkansas has become one of the few Democrats in the Senate to publicly oppose gay marriage. Guess he doesn't mind being on the wrong side of history. Megyn Kelly of Fox News interviewed hate group leader Tony Perkins today and took a moment to push the ridiculous notion that pro-gay activists are victimizing Christians. Despite an astonishing amount of evidence to the contrary Russian leader Vladimir Putin says that his country does not discriminate against gays. Also Rick Santorum will be going down with the ship as he announced that the GOP would be "suicidal" to support gay marriage.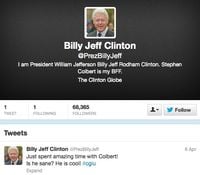 **
VIDEOS OF THE DAY
Former President Bill Clinton sat down with Stephen Colbert at the talk show host's "Galactic Initiative" last night and was forcibly signed up for Twitter. Watch as a bromance turns into a deep, passionate love and though I have never heard of Bitcoin, it is apparently poised to take over the internet and you should know about it.