Cardinal Andre Wingt-Trois, France's top Catholic bishop told a meeting of French bishops that the government risked inciting more violence by "rushing" a marriage equality law through the legislature, Reuters reports: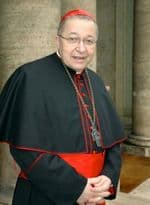 Vingt-Trois, the archbishop of Paris, said the difference between the sexes was a basic human trait and denying it by legalizing marriage and adoption for homosexuals would weaken society's ability to manage its differences peacefully.
"This is the way a violent society develops," he told the spring meeting of the French bishops' conference. "Society has lost its capacity of integration and especially its ability to blend differences in a common project." …
…Vingt-Trois accused the government of rushing the law through parliament without sufficient public debate.
"Forcing it through can simplify things for a while," he said. "To avoid paralyzing political life when there are grave economic and social decisions to take, it would have been more reasonable and simple to not have started this process."
Anti-gay marriage protest have erupted in violence in recent weeks over the proposed law.