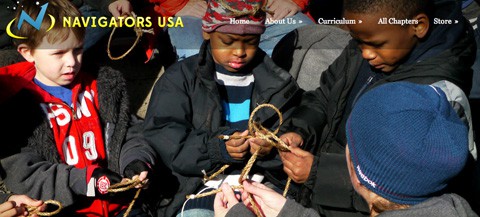 The gay-friendly scouting alternative to the Boy Scouts, called Navigators USA, has doubled its numbers in one year, Mother Jones reports:
In March, 2012, the Navigators had 19 chapters, but today, there are about 45 chapters across 21 states, according to Tony Porterfield, a chapter leader in Los Altos. Bossert adds that they are growing at a rate of about 2 chapters per month, with each chapter having an average of 8-12 children, so he estimates that there are up to 600 boys and girls enrolled in the program. For the most part, Navigators participate in the same kinds of activities that Boy Scouts do: Camping, organic farming, hiking, tie dying, excursions to museums, and community service. Freed says the only event his son misses from the Boy Scouts is the Pinewood Derby, where scouts build and race model cars (Freed points out that "as a parent doing much of the work on it, I do not miss it.")
But there is one big difference: The Navigators' Moral Compass (left), which expresses the group's philosophy that members shouldn't be discriminated against over gender, religious beliefs, or sexual orientation. Bossert says the organization has openly gay chapter leaders, as well as board leaders and co-members.
As for other inclusive alternatives to the BSA, there is also the Baden-Powell Service Association (BPSA), and Camp Fire.