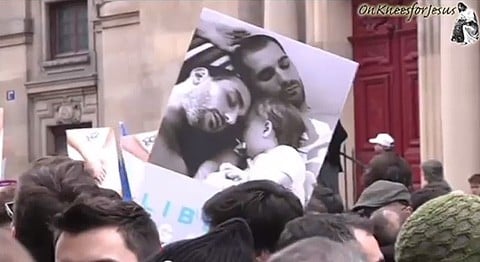 French police today arrested approximately 70 anti-gay activists today as they tried to set up camp outside the National Assembly in advance of a final April 23 vote on marriage equality, Reuters reports:
Around 70 people were arrested early on Monday and placed in custody after they tried to set up a campsite outside the National Assembly, the lower house of parliament, near the banks of the Seine river, a police official said.
Another 19 protesters were stopped by police for identity checks late on Sunday as they waited for Interior Minister Manuel Valls to leave a concert hall in the capital.
Violent rhetoric by anti-gay groups is being ratcheted up in advance of the vote, with one anti-gay leader declaring blood would be spilled should the legislature vote for equality.
The April 23 date is a new one, weeks earlier than initially planned.
Watch a Christian World News report on the marriage debate in France, AFTER THE JUMP…