The French Senate voted Friday to adopt a bill legalizing same-sex marriage and giving gay couples the right to adopt, News24 reports: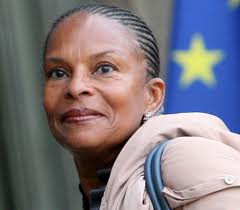 The vote, by a show of hands, puts the bill on track to become law after technical second readings in both houses.
Senators had on Wednesday approved the crucial first article of the bill granting gay couples the right to marry and to adopt, by a vote of 179 to 157.
Justice Minister Christiane Taubira (pictured) hailed the Senate vote, saying it had strengthened French society "by granting the simple recognition of full citizenship to homosexual couples".
The bill came under vehement attack in a country that is officially secular but predominantly Catholic, mobilising hundreds of thousands of people in pro- and anti-gay marriage protests nationwide.
The WSJ adds: "The bill will formally become law in the coming months, once Parliament has reviewed a number of minor, technical amendments. The vote delivers a key electoral pledge of Mr. Hollande at a time when his popularity is at record lows and the Socialist majority is struggling to contain a tax-fraud scandal involving a former budget minister."