SI's Jon Wertheim talks about the preparation for Jason Collins' momentous coming out today: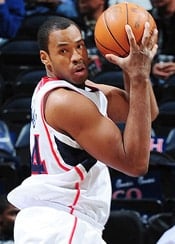 Last Wednesday Collins invited two Sports Illustrated writers to his home. With both solemnity and humor (as well as a nervous pause to make sure his backyard pool wasn't overflowing), he began crafting today's account, a public declaration that he is gay.
And Collins honored those who made his path:
Barely five minutes into a wide-ranging, hours-long conversation, Collins expressed a debt of gratitude for the other athletes, gay and straight, who helped accelerate this climate change, as it were. If he is the trailblazer, a team of others cleared the brush. Martina Navratilova, who's not only regarded as the first active athlete to come out but also did so at the peak of her career? John Amaechi, the NBA player who came out of the closet in 2007, four years after his NBA career ended? NFL players Chris Kluwe and Brendon Ayanbadejo, "straight allies," who became gay rights advocates, especially within the last year? "The words thank you aren't enough," says Collins.
And his hopes and fears:
Eloquent as he is in articulating why he decided to end his silence, he also expresses plenty of trepidation about what comes next. A free agent this summer, he wonders if this new status will affect his marketability. How will teammates react? Sure, he's been booed before — "I've wanted to boo myself sometimes, he says" — but it's never come with the sting of homophobia. He cuts off a few minutes of speculative talk by shrugging. "Look," he says. "At the end of the day I don't know what's going to happen after I open this door."
Today, though, one of the last closets in American society has been pried open. It wasn't done with a crowbar. The hinges are still intact. But it opened and Jason Collins walked out. Proudly. Head high. A smile on his face. Surely there are other active athletes, maybe lots, still inside. But the capacity is one less than it was yesterday.
And the day after he came out to SI, Collins reported that he slept well. When he woke, the sky hadn't fallen in. And damn if it wasn't blue.
And SI's Chris Stone on how the story came together:

Shortly after 8 on Easter morning, Lidz, a senior writer at Sports Illustrated from 1988 to 2007, phoned me at my home. Representatives of an active NBA player, whom they did not identify, had told Lidz that their client was considering sharing, publicly, that he was gay. While no male athlete in the U.S. playing a professional team sport had ever come out, this was not entirely surprising news. The previous week CBSSports.com had reported that efforts were afoot to pave the path for closeted NFL players to go public. Former Ravens linebacker Brendon Ayanbadejo gave further voice to that possibility during the first week of April, when he said that as many as four players were in discussions about coming out as a group. On April 6, Lidz called again. The player had agreed to speak to SI on Wednesday, April 24, in Los Angeles, a week after the end of the NBA regular season.
The player's identity remained unknown to Lidz until the agreed-upon date. He, and we, knew there was a very real, understandable possibility that the player could change his mind. Lidz and SI executive editor Jon Wertheim arrived in L.A. on the night of April 23.