Illinois Governor Pat Quinn tells the Windy City Times that he has met with more than a dozen Illinois lawmakers in recent days, lobbying them to change their minds on a marriage equality bill which still awaits consideration by the House.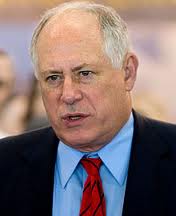 Says Quinn:
We've been talking to house members of both parties, really dozens of them. I'm really optimistic we're within striking distance. Hopefully between now and the 31st of May, Greg Harris, our sponsor, will find a moment to call the bill for a roll call.
Later in the interview he is asked if a vote is expected this week, and he adds: " I think the sooner the better, really. I think we've worked very hard at this. I think it's time to have the vote, and I sure hope so."
Quinn adds: "I do believe we are very, very close, and we've come a long, long way," but says people need to continue contacting lawmakers:
Clearly, the opponents have been very aggressive, no question about it. But we, I think, have been strong at laying out the fundamental facts and arguments in favor of marriage equality….We've come a long distance. We've traveled over a very high mountain. But when you come down to the last stretch in the race, we've got to sprint. We cannot jog. In other words, what we have to do in these next few days and weeks is redouble our efforts because we don't want any legislators at the last minute deciding not to vote yes.
Illinois residents can find out how to call lawmakers HERE.