The group Gay USA is organizing a protest of Jeremy Irons at the opening of his film Trashed at the Energy for Tomorrow Conference in New York tonight sponsored by the New York Times. It's scheduled for 6 pm at 55 w. 59th street.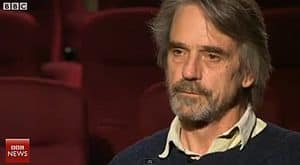 Writes the group:
TELL JEREMY IRONS: STOP TRASHING GAY RIGHTS

Jeremy Irons wants us to take him seriously when it comes to addressing the trash crisis. From all indications, he is right. But lately he has undermined his credibility and his right to be taken seriously through bigoted and offensive statements questioning the right of gay couples to marry, saying that it would "debase" marriage and would lead to fathers marrying their sons for tax benefits — even though no such thing has happened anywhere in the world where same-sex marriage is legal.

Irons' non-apology apologies on this issue acknowledge that he is uninformed on the issue. Here he is trying to educate the world on a very real environmental crisis and he cannot take ten minutes to talk to one of his gay friends and get educated on a vital human rights issue such as marriage equality? Every time his "apologizes" he makes another dumb comment.

Tell Jeremy Irons to stop trashing gay people and to learn the facts about the justice of opening marriage to same-sex couples before saying one more word on the subject. Irons has hurt the cause of gay rights by feeding into ignorance and it hurting the environmental cause by demonstrating that he often does not know what he is talking about.
If you missed Irons' asinine remarks, you can see them here and here.