LGBT rights groups expressed disappointment on Tuesday that gay and lesbian families were left out of a long-anticipated comprehensive immigration reform bill.
"We're disappointed that we're not in the base but we've always known that our best shot would be at the committee level," said Fred Sainz, spokesman for the Human Rights Campaign. "The goal is to get into the underlying bill. How that happens is not as important as the fact that it happens."
(image via stop the deportations)
Immigration Equality writes:
As we anticipated, however, the base bill does not include the Uniting American Families Act. (A "base bill" is the first version of the legislation, before any lawmakers have an opportunity to make amendments, or changes, to the language.)
UAFA's exclusion renders the bill incomplete. It is not comprehensive and is does not reflect the values or diversity of our country. Senators on the Judiciary Committee must allow a full and open amendment process that provides an opportunity to add UAFA as an amendment during that process.  We need a majority of Committee members to support adding UAFA to the bill. This means the time is NOW to contact Judiciary Committee Senators and demand they vote for UAFA during the amendment process.
We will not give Senators of either party a pass on the inclusion of our families in immigration reform. We are watching – and we will remember – which lawmakers stand with us, and which stand to the side, when this critical vote happens. The Judiciary Committee includes Senators from states with full marriage equality, such as New York, Vermont, Connecticut and Iowa. Other states represented on the Committee – California, Texas and Arizona – are home to large numbers of LGBT binational families.
26 LGBT rights groups signed a statement of solidarity on the legislation including the National Gay and Lesbian Task Force; GLAAD; the National Center for Lesbian Rights (NCLR); the Queer Undocumented Immigrant Project (QUIP), a project of the United We Dream Network; National Queer Asian Pacific Islander Alliance (NQAPIA); and Immigration Equality.
"The current broken system hurts, scapegoats and vilifies all immigrants, including LGBT immigrants, and their friends and families. Comprehensive federal immigration reform is an urgent priority for our nation and the LGBT community," said Kate Kendell, executive director of the National Center for Lesbian Rights.
Read the statement and the groups that have signed on here.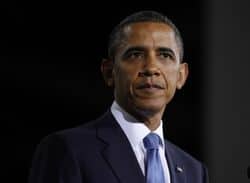 Said Obama in a statement:
"This afternoon, Senators Schumer and McCain briefed me on the bipartisan immigration reform bill that they have drafted with their colleagues in the Senate. This bill is clearly a compromise, and no one will get everything they wanted, including me. But it is largely consistent with the principles that I have repeatedly laid out for comprehensive reform. This bill would continue to strengthen security at our borders and hold employers more accountable if they knowingly hire undocumented workers. It would provide a pathway to earned citizenship for the 11 million individuals who are already in this country illegally. I urge the Senate to quickly move this bill forward and, as I told Senators Schumer and McCain, I stand willing to do whatever it takes to make sure that comprehensive immigration reform becomes a reality as soon as possible."