A new bill set for introduction in Minnesota would redefine marriage in the state as a civil union for all couples, ABC6 reports: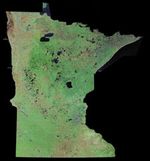 A new version of the civil union bill is said to go for its first reading Thursday at the Minnesota capitol. It would make civil unions for everyone, gay or straight, and leave the term marriage specifically for churches…
That definition of marriage has been a constant battle at the state capital. There's a bill in support of same-sex marriage, one suggesting civil unions for gay couples, and now a bill putting civil unions in place of marriage for everyone.
"It makes certain that every Minnesotan couple gets a civil union in the state of Minnesota and that marriages are left to the churches that are offering them," said Rep. Norton. She says she'll be signing onto the new legislation because this way everyone will be treated equally under Minnesota law. "Some people have goten hurt by my decision to sign this on, but as I think I've shared with you before, I have not found a majority of folks in my community with one opinion."