New Zealand has legalized same-sex marriage in a 77-44 vote on a third and final reading of the bill, the New Zealand Herald reports: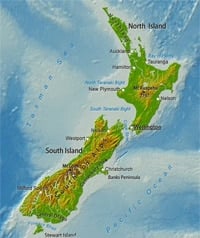 The bill will take effect in mid August and comes 27 years after New Zealand decriminalised homosexuality.
Same-sex marriage supporters at the Campaign for Marriage Equality party in Wellington cheered loudly and applauded as the bill was passed into law.
More than a hundred supporters gathered at the San Francisco Bath House bar on Wellington's Cuba St to watch the vote. They will be joined later tonight by the bill's sponsor, Labour MP Louisa Wall, who is expected to be welcomed with a haka before addressing supporters.
There was a din of anticipation in the moments before the vote was announced, followed by a hush as the vote was read.
The bar then erupted into cheers and applause. Supporters embraced and joined in a waiata following the vote.
New Zealand joins Uruguay, The Netherlands, Belgium, Spain, Canada, South Africa, Norway, Sweden, Portugal, Iceland, Argentina, and Denmark as the 13th nation to offer its citizens nationwide marriage equality.
Brazil, Mexico, and of course, the U.S. offer it in parts of the country.