Senator Rob Portman has seen a loss of support from Republicans since coming out for marriage equality in March, the WaPo reports: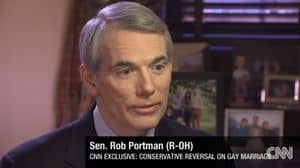 Forty percent of Ohio voters approve of Sen. Rob Portman's job performance in a new Quinnipiac poll; 31 percent disapprove. Last month, 44 percent approved of his work and 24 disapproved.
The dip is due to a 13-point increase in his disapproval rating among  Republicans. Forty-one percent of GOP voters said they view Portman less favorably because of his shift. Overall, 20 percent of voters think more favorably of the senator now, 25 percent think less favorably and 53 percent say it makes no difference. Portman's disapproval rating with independents is also up slightly.