The Boy Scouts appear set to end their ban on gay scouts, Reuters reports: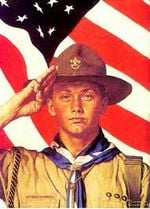 If the vote is approved, "no youth may be denied membership in the Boy Scouts of America on the basis of sexual orientation or preference alone," Deron Smith, the organization's spokesman, told Reuters.
Smith noted that the decision drew from three months of research, surveys and discussions and was "among the most complex and challenging issues facing the BSA and society today."
The AP writes:
Under pressure over its longstanding ban on gays, the Boys Scouts of America is proposing to lift the ban for youth members but continue to exclude gays as adult leaders.
The Scouts announced Friday that it would submit this proposal to the roughly 1,400 voting members of its National Council at a meeting in Texas the week of May 20.
The resolution must still be ratified by the organization's board in May.
UPDATE:

Jennifer Tyrrell, lesbian Scout leader ousted as her 7 year-old son's den leader via letter on April 17, 2012, released this statement today:
"One year after sending a letter ousting me as my son's leader, the Boy Scouts are once again forcing me to look my children in the eyes and tell them that our family isn't good enough," said Ohio mom Jennifer Tyrrell. "My heart goes out to the young adults in Scouting who would be able to continue as scouts if this is passed, but then be thrown out when they reach the age to become leaders."
GLAAD added:
"Yet again, the Boy Scouts of America has failed its members, corporate sponsors, donors and the millions of Americans who agree that the time to end discrimination in Scouting is now," said Rich Ferraro, Vice President of Communications at GLAAD. "By refusing to consider an end to its ban on gay and lesbian parents, the Boy Scouts have missed an opportunity to exercise leadership and usher the organization back to relevancy. We're living in a culture where, until every parent and young person have the same opportunity to serve, the Boy Scouts will continue to see a decline in both membership and donations."