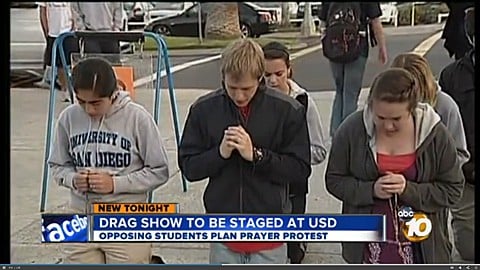 Last night, the student run PRIDE group at University of San Diego held an apparently very threatening drag show called 'Supreme Drag Superstar' on campus for the second year in a row.
Catholic students at the school tried to pray it away:
Speaking on the group's behalf, sophomore Ailsa Tirado points out how the drag show advances an ideology that is opposed to natural law, and serves to perpetuate moral confusion rather than provide true spiritual healing.
"The University of San Diego is unquestionably being deceitful by identifying itself as a Catholic University, while permitting the acceptance and promotion of an ideology that is in direct contradiction to the Catholic moral teaching and social tradition," the open letter states.
Watch 10News' report, AFTER THE JUMP…
And the outcome: