Saying, "As a senator and as a citizen, I can no longer in good conscience take a position that denies her and her family the full measure of equality and respect," Senator Bob Casey (D-PA) is the latest U.S. Senator to evolve on marriage equality, in an interview with Philadelphia Gay News: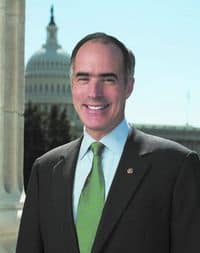 "After much deliberation and after reviewing the legal, public policy and civil-rights questions presented, I support marriage equality for same-sex couples and believe that DOMA should be repealed," Casey said in a statement exclusively first released to PGN Monday afternoon…
Casey said he attributes his evolution on the issue in large part to feedback from LGBT Pennsylvanians and their families.
"These stories had a substantial impact on my position on this issue," the senator said. "If two people of the same sex fall in love and want to marry, why would our government stand in their way? At a time when many Americans lament a lack of commitment in our society between married men and women, why would we want less commitment and fewer strong marriages? If two people of the same sex want to raise children, why would our government prevent them from doing so, especially when so many children have only one parent or none at all?"
Casey had previously backed civil unions for same-sex couples and opposed consitutional bans on same-sex marriage. He has also supported ENDA and 'DADT' repeal.
More at PGN…