The Texas A&M Student Senate last night voted 35-28 in favor of a measure allowing students to opt out of funding the campus GLBT Resource Center if they have religious objections, the Dallas Voice reports: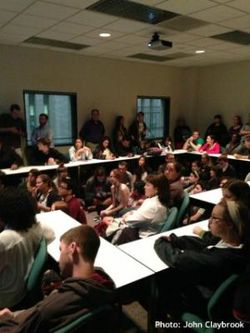 Less than 24 hours before the vote, the name of the bill was changed from the "GLBT Funding Opt Out Bill" to the "The Religious Funding Exemption Bill," and specific references to the GLBT Resource Center were removed. However, opponents of the bill who packed a Student Senate meeting before the vote Wednesday said the name change did not alter the bill's discriminatory, anti-gay intent.
With the crowd spilling into the hallways, an overflow viewing room was set up, and the Senate meeting had to be stopped several times so administrators could clear fire exits, according to a report in The Eagle of Bryan-College Station. Emotions ran high, with senators cursing and the woman assigned to tally their votes bursting into tears.
KBTX reports on the contentious meeting and has a long piece on the history of the bill:
According to a university spokesman, the GLBT Resource Center receives about $100,000 a year in funding provided by student fees, averaging out to a contribution of around $2 per student.
GLBT Aggies President Kimberly Villa says the center provides a "safe space" for those students who identify as gay, lesbian, bisexual, or transgendered, and that a vote in any way to strategically divert funding would hurt a population which has experienced a history of discrimination on the Texas A&M Campus. The center provides reference materials, counseling support, and programming concerning GLBT health and awareness issues.
The "Religious Funding Exemption Bill" was originally written by a student who felt morally and religiously opposed to paying fees that go towards the Gay Lesbian Bisexual Transgender Resource Center on campus.
A&M Student Body President John Claybrook (who took the inset photo that was published by kbtx) has the option to veto the measure but has not said if he will.
(image kbtx)
UPDATE: Zack Ford at Think Progress makes note of this even more heinous development:
Though it's unclear this student-led attack on LGBT Aggies is enforceable, the state legislature is considering a broader change that very well could. Texas Rep. Bill Zedler (R) has filed an amendment to the state's appropriations bill to cut funding for public universities that have "Gender and Sexuality Centers and Related Student Centers." The amendment offensively claims that the centers promote behaviors that have a high risk for disease:
An institution of higher education may not use money appropriated to the institution under this Act, or any property or facility of the institution funded by appropriations under this Act, to support, promote, or encourage any behavior that would lead to high risk behavior for AIDS, HIV, Hepatitis B, or any sexually transmitted disease.