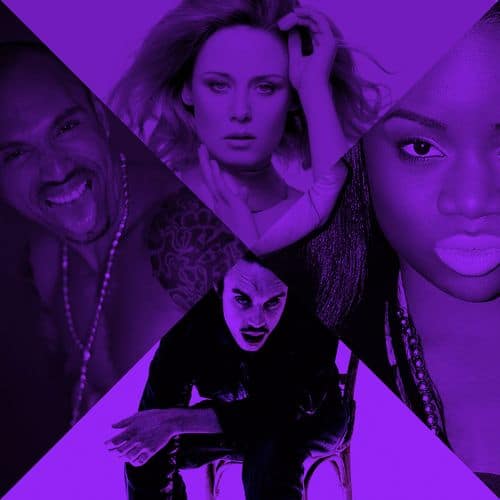 BY OCCUPY THE DISCO / RU BHATT
The OXD Mirror is a weekly music column brought to you by the boys of OCCUPY THE DISCO (OXD), a New York City based collective created by three music lovers, Ru Bhatt, Josh Appelbaum, and Tadeu Magalhães, who want to share their love for disco, house and dance music with the world.  
Boris Dlugosch feat. Róisín Murphy – 'Never Enough (Drop Out Orchestra Remix)'
Germany's Boris Dlugosch, known for his funky and deep house tracks, made quite the impact with his 2001 hit collaboration with Róisín Murphy, 'Never Enough.' In a somewhat suprising move, Dlugosch is re-releasing the massive tune 12 years later with a collection of new remixes. On this rework, Sweden's Drop Out Orchestra turns the hard hitting club banger into more of a subdued, daytime disco affair by including space age synths and the heavy strings that inspired their namesake. While the impetus for this re-release may not be that altruistic (a new Dlugosch and Murphy collaboration is supposedly in the works), it's quite exciting that Dlugosch (via his label, Peppermint Jams) sought out many of today's finest producers to update this classic hit. Dlugosch has even gone as far as to crowd source the next remix of this classic song, with a contest live on Beatport soliciting fan-made works. Murphy fans like myself have practically been begging for new material since her fantastic 2007 record, Overpowered, so we'll take anything we can get.
FCL – 'It's You (David Morales Remix)'
FCL's 'It's You' is somewhat of a controversial tune. The song is a remake of a track made in 1986 by a Chicago house duo called ESP. FCL's Red D & San Soda were inspired by the original in 2003 and created the 'San Soda's Panorama Bar Acca Version,' which was only available on vinyl and had a very limited press run—reserved for D, Soda and some of their friends. The song's haunting vocals and stripped down production made it an instant hit on the dancefloor, becoming the essential tune for DJs to play. After the records were found being sold online for ridiculous prices (€500!) and after hearing many accounts of DJs playing low quality versions of the the track in clubs around the world, the Belgian production duo recognized the the need to turn to Defected Records and give the song a proper digital release in order to preserve the quality of their art. With the advent of the Shazam app and and the internet, it's impossible to create a limited release these days. And there's the lament: the duo went to great lengths to preserve exclusive access to their art, but, in this digital era, they were practically forced to give the public what they wanted so they would hear it in the quality that the artists prefer. Luckily what that also means is that uber house producers like NYC's very own David Morales are given access to create their interpretations as well. In this instance, Morales adds considerable weight to the original, turning the wonderful acappella track into a floor filling summer house anthem.
Disclosure – 'You And Me feat. Eliza Doolittle'
Hot off the heels of the successes of 'Latch' and 'White Noise,' the brothers Guy & Howard Lawrence (a.k.a. Disclosure) recently debuted the third single from their hotly anticipated debut album, Settle, and have performed quite the hat trick!  'You & Me' features vocals by English singer-songwriter Eliza Doolitle and stays true to Disclosure's successful formula of vocally driven Chicago House / U.K. Garage tracks. Tad and I had the pleasure of seeing the brothers live at NYC's Bowery Ballroom (where they previewed much of the new album to our considerable delight) and were absolutely blown away by this song. It's interesting that brothers refer to this slick and breezy jam as pop music, which certainly may be true in the U.K. but it's a far cry from what's considered pop here in the states. Perhaps they're just ahead of the trend?
CONTINUED, AFTER THE JUMP…
Toy Boy & Robin – 'Jaded'
The London House & Garage duo known as Toyboy & Robin first caught my ear with the release of 'No More Sunshine,' a  floor filler I turn to on many occasions when DJing at our weekly Sunday party, Paradisco. It plays directly to the R&B-based nostalgic trend of house music of the past year as the song is a rework of Sunshine Anderson's 2001 hit, 'Heard it All Before'. With 'Jaded,' the duo proves their previous brilliance was no fluke. A simple kick drum guides the listener as they emerge from a haze of electronic sounds before the Toyboy & Robin's trademark addictive synth hook and melodic unrecognizable vocals draw them to the dancefloor. Much like Disclosure (albeit on a much harder scale), the duo blends elements Chicago house and classic garage into a contagious frenzied affair that's perfect for sun drenched afternoons.
A*M*E – 'Heartless (MNEK Remix)'
You may remember A*M*E as the young U.K. pop starlet that co-wrote and provides the vocals for Duke Dumont's chart topping single 'Need U (100%).' British producer MNEK also co-wrote the Dumont banger, so the expectations for their next musical effort is quite high. MNEK's remix of her latest single, 'Heartless,' lives up to the hype as yet another irresistible pop anthem that showcases everything we've come to love about A*M*E: her cheery attitude, unique voice, and ear for drama. Born and raised in war-torn Sierra Leone, A*M*E relied on pop music from the likes of *N*Sync and Backstreet Boys in order to escape the harshness of her reality. These influences bring a very strong 90's pop influence to her dance records, creating an effective combination that's "nothing too heavy, tragic, sad or anything like that." MNEK's production gives the song more of a U.K. garage sound, which, as evidenced by the tracks above, is starting to become the signature sound of 2013.
Kleerup feat.Loreen – 'Requiem Solutions (Prins Thomas Remix)'
Swedish record producer and drummer, Andreas Kleerup is no stranger to your iPod. He's the man behind Robyn's #1 UK single, 'With Every Heartbeat,' a song that many gay men fell in love with upon it's re-release in 2008. After collaborating with Lykke Li on 'Until We Bleed' and Cyndi Lauper on 'Lay Me Down' it seemed as though Kleerup had cornered the market on sweet sadness on the dancefloor. It's been a while since we've heard from him but with his latest release, 'Requiem Solutions,' he stays true to form, this time featuring vocals by the fellow Swedish vocalist Loreen. Norwegian producer and balearic maestro Prins Thomas streches the song to an epic bliss-inducing eight minutes that's perhaps best enjoyed alone on the dancefloor.
(OXD) curates and recommends music events to the gay community in NYC—in an effort to move the focus of the nightlife scene beyond the promoter and venue and to the music itself. OXD's goal is to educate, entertain, engage and empower the gay audience to reclaim their ability to question and experience the unknown. The OXD Mirror will serve to showcase tunes that are definitely off-the-beaten-path but rightfully deserve the attention of the gay ear.
This week's post was written and curated by Ru Bhatt. Check out more of his music picks on his podcast, The Ru-Mix and on Made In Brazil.

Be sure to check out these tracks and more on our Spotify Playlist. For more information on OXD, check out our website and accompanying blog at www.occupythedisco.com, like us on Facebook, or follow us on Twitter: @OccupyTheDisco.