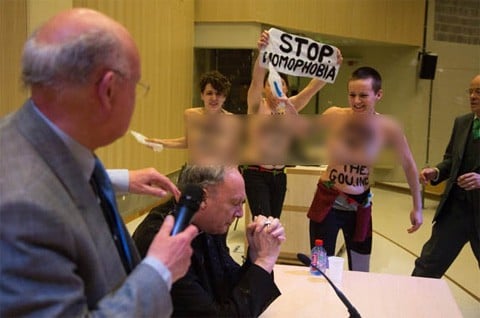 A group of topless activists drenched Belgian Archbishop Andre-Joseph Leonard with water yesterday in Brussels, the NY Post reports:
With messages scrawled on their torsos, the members of the group FEMEN crashed Leonard's planned lecture on blasphemy at ULB university and screamed insults at him while dousing him with water. Leonard, 72, has come under fire for his opposition to gays and a willingness to express it publicly.
"Homosexuality is not the same as normal sex in the same way that anorexia is not a normal appetite," he said in a Belgian television interview.
More photos (work-unfriendly) here.
You may recall that Leonard was pied in the face by activists a year ago after suggesting AIDS stemmed from the wrath of God and calling it "a sort of intrinsic justice."