Virginia gubernatorial candidate and former DNC Chair Terry McAuliffe told attendees at an Equality Virginia dinner on Saturday that he supports marriage equality but would not prioritize repealing the 2006 consittutional amendment banning same-sex marriage in the state and instead focus on the economy, the Times Dispatch reports: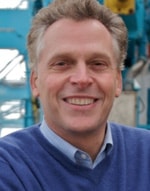 "We just went through this process here seven years ago; it's in the constitution," McAuliffe said in an interview at the 10th annual Commonwealth Dinner hosted by Equality Virginia, one of the state's advocacy groups for gay rights, at the Greater Richmond Convention Center.
However, McAuliffe said he would not tolerate any form of discrimination in the commonwealth. "We've got to make sure that Virginia is open and welcoming to everybody," McAuliffe said.
McAuliffe said he made the decision to back same-sex marriage in February after discussing the issue with his wife. "A lot of the debate around 'don't ask, don't tell' really enlightened me," he said.
The Washington Blade adds:
He also sought to differentiate himself from Attorney General Ken Cuccinelli who last week asked the 4th Circuit U.S. Court of Appeals in Richmond to review a three-judge panel's decision in March that struck down Virginia's sodomy law.