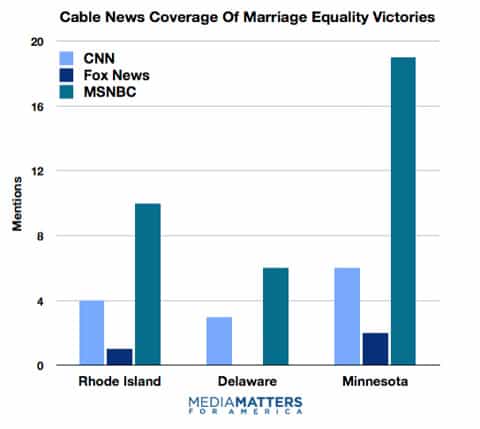 Media Matters has posted a report on coverage from the cable news of the recent marriage equality victories in Minnesota, Delaware, and Rhode Island.
The report reveals this nugget: FOX News devoted exactly 16 seconds of coverage over the past couple of weeks to marriage equality in Rhode Island, 44 seconds to marriage equality in Minnesota, and 0 seconds to marriage equality in Delaware.
"According to an Equality Matters analysis, Fox News mentioned the marriage equality victories in Rhode Island, Delaware, and Minnesota a total of three times. CNN and MSNBC made 13 and 35 mentions of the stories, respectively."