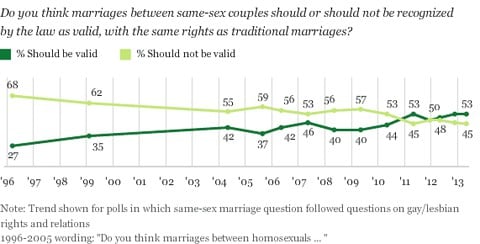 Gallup has revealed the results of a recent poll showing support for marriage equality at 53 percent, the third consecutive reading of 50 percent or higher in the past year.
Gallup's May 2-7 poll suggests Americans' support for gay marriage is solidifying above the majority level. Recently, Rhode Island and Delaware legalized same-sex marriage, and Minnesota is likely to follow suit. That would bring the total number of states legally recognizing same-sex marriage to 12.
Just three years ago, support for gay marriage was 44%. The current 53% level of support is essentially double the 27% in Gallup's initial measurement on gay marriage, in 1996.
Nearly all U.S. subgroups are more likely to favor gay marriage now than in the past. Politically, Democrats, independents, and liberals all show increasing support for gay marriage over time, with each well above the majority level now. Republicans, conservatives, and moderates are more likely to favor gay marriage now than in 1996, but the increase in support among these groups may have stalled. Thus, most of the increase in the percentage favoring legal gay marriage in the last three years has come among left-leaning groups politically.
Much deeper data diving at the source.
Another poll shows the largest-gap ever measured between those who favor 'nature' over 'nurture' when it comes to sexuality.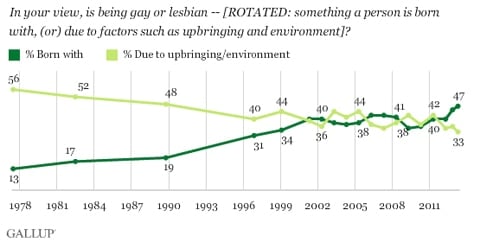 Writes Gallup:
Currently, 47% of Americans view being gay or lesbian as a sexual orientation individuals are born with, while 33% instead believe it is due to external factors such as upbringing or environment. That 14-percentage-point gap in favor of "nature" over "nurture" is the largest Gallup has measured to date. As recently as two years ago, the public was evenly divided.
The results are based on Gallup's annual Values and Beliefs poll, conducted May 2-7. When Gallup first asked about the origins of same-sex orientation in 1977, Americans were much more likely to attribute it to upbringing or environment. Although the gap in favor of external factors shrank somewhat over the next two-plus decades, it remained the more common belief.
Throughout most of the last decade, Americans were generally divided in their views, though there were times when they tilted slightly more in the direction of environmental factors (2003-2005) or toward a birth factor (2006-2008).
The 2012 Values and Beliefs poll marked the start of a trend toward an increasing belief that people are born with a same-sex orientation.