A gay couple in Zambia have reportedly been arrested after the family of one of the men reported them to authorities, AFP reports: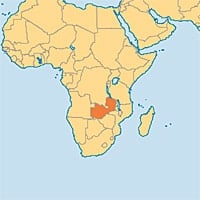 James Mwape, 20, and Philip Mubiana, 21, from the northern town of Kapiri Mposhi, are said to have been living together for some time.
"The two have been charged with the offence of sodomy or having sex against the order of nature contrary to the laws of Zambia," said central province police chief Standwell Lungu.
The two men will appear in court on Wednesday. Police allege that Mubiana played a female role in the relationship, and had at times attempted to dress like a woman, prompting his relatives to report the two to the police.
"The relatives are the ones that reported the matter to the police," Lungu told AFP.
Zambian officials have in recent years ordered people to turn known homosexuals over to the police.
More on this as it develops…