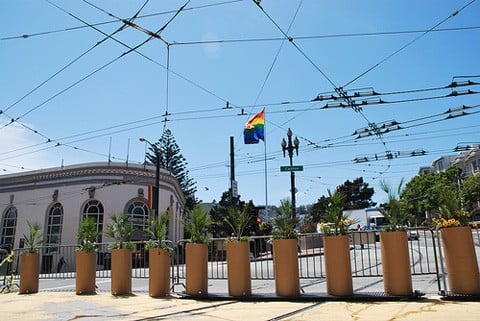 (image flickr jamison wieser)
The iconic Bank of America building at the corner of Castro and Market in San Francisco may soon have a new tenant: The Randy Rooster SF, a 'gay gentlemen's supper and burlesque club', the San Francisco Chronicle reports:
"From what they presented to me, it appears to be a go-go dancing, semi-strip club," said Terry Asten Bennett with the Merchants of Upper Market and Castro association.
"It's not going to be nude, but potentially they will be stripping down to thongs," said Randy Rooster co-owner Daniella Reichstetter. But unlike other strip clubs, she said, patrons won't be stuffing dollar bills into the thongs. Reichstetter said the owners want the club to be classy, clean and represent everything gay in San Francisco — complete with beautiful cocktails and dinners with "local sustainable-source fare."
Patrons will also be given a menu of local charities to which a portion of their cover charge will be donated.