Illinois Republican Chair Pat Brady resigned today following months of controversy over his support for same-sex marriage.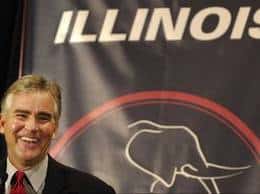 Said Brady in January:
"Giving gay and lesbian couples the freedom to get married honors the best conservative principles. It strengthens families and reinforces a key Republican value – that the law should treat all citizens equally."
A marriage equality bill is still pending in the Illinois House and lawmakers are expected to vote on it before the end of May.
In March, Republican leaders had planned a meeting in which they were going to discuss firing Brady for his remarks but the meeting was canceled because of dissonance within the party. They met again in April, when apparently Brady's fate was sealed and a succession process was put in place, the Chicago Tribune reports.
Brady said he made the endorsement personally, not as Republican chairman, but conservatives in the top echelon of the GOP party quickly complained.
 
Though Brady survived immediate attempts to dump him, a meeting of the Republican State Central Committee in Tinley Park last month made clear his fate. GOP leaders agreed to put together a succession plan, allowing Brady, of St. Charles, an exit strategy that made clear his days were numbered as they began a search for a new chairman.