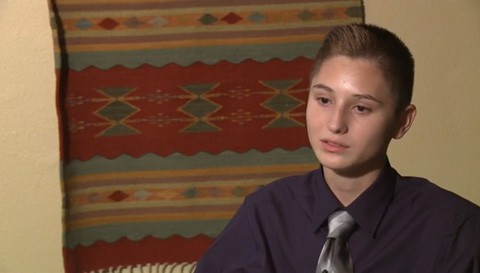 Last week, I posted about Damien Garcia, a trans male student at St. Pius High School in Albuquerque, New Mexico who is being forced to wear a girl's gown to the school's graduation.
Modern Family actor Jesse Tyler Ferguson graduated from the same school, and is getting involved on Garcia's behalf.
Writes Ferguson in a letter to the school posted on Facebook (transcribed from screencap below):
I am writing to ask you to do the right thing and let all your students graduate with dignity. Do not force someone to identify them self  (sic) as someone they are not! Is is as ridiculous as having a priest conduct mass in a nuns habit! Gender identification goes way beyond a check mark on a birth certificate.
I know St. Pius X  has changed a lot since I graduated in '94. I proud of the changes and strides you have made but this is not a time to hold to a rule book. Continue to grow and accept ALL of your students.
A rally is being held this morning at the high school to support Garcia. An online petition has collected more than 24,000 signatures urging St. Pius to reconsider. The school says it will decide later today.