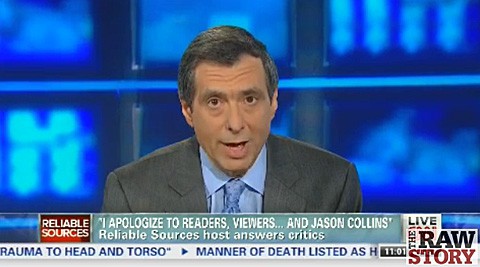 In a 15-minute segment on his CNN Reliable Sources show, host Howard Kurtz apologized for the Jason Collins accusations that preceded his firing from the Daily Beast, and allowed himself to be grilled by Politico's Dylan Byers and NPR's David Folkenflik over his mistakes.
"On Monday, I read the 'Sports Illustrated' article by Jason Collins, the first pro male-team athlete to come out publicly as gay. I read it too fast and carelessly missed that Jason Collins said he was engaged previously to a woman and [I] then wrote and commented that he was wrong to keep that from readers when, in fact, I was the one that was wrong…My logic between what happened between Jason Collins and his former fiance and what was and wasn't disclosed — in hindsight, well, I was wrong to even raise that and showed a lack of sensitivity to the issue. Also, I didn't give him a chance to respond to my account before I wrote it and in addition my first correction to the story was not as complete and full as it should have been."
Kurtz also said his exit from the Daily Beast was already in the works and that it wasn't because of the Jason Collins column.
Watch, AFTER THE JUMP…