A gay man has been beaten to death in Russia, Reuters reports: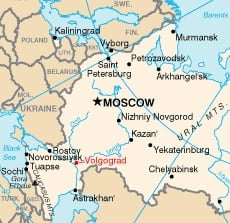 The body of a 23-year-old man was found in the courtyard of an apartment building in the southern city of Volgograd early on Friday with multiple wounds including in the genital area, the federal Investigative Committee said on Saturday. It said a 22-year-old acquaintance of the victim and a 27-year-old ex-convict had been detained on suspicion of murder.
A investigator in Volgograd, Andrei Gapchenko, told Ekho Moskvy radio that the suspects said they had been drinking with the victim and began beating him after he told them he was gay.
It is rare for law enforcement authorities in Russia to specify suspicions that homophobia was the motive in an attack, and activists say many attacks against gays are not treated or described as such by the police.
Radio Free Europe adds:
The two men…allegedly beat him, sodomized him with a beer bottle, and smashed in his skull with a stone.
Articles in Russian media here,  here and here.
Killing in Russia adds to concerns over treatment of gays [reuters]