As we've been reporting, Minnesota is suddenly on a fast-track to marriage equality, with a vote in the House scheduled for tomorrow.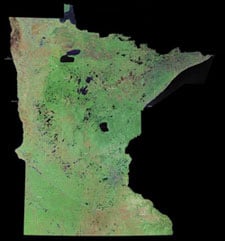 How do things look? Very good.
House Speaker Paul Thissen, DFL-Minneapolis, said he believes the 73-member DFL majority has the 68 votes needed to pass the bill allowing same-sex couples to wed, even without a single Republican vote.
As of late Tuesday, no GOP House members have said publicly they would vote "yes."
Meanwhile, Senate Democratic leaders say they also have the votes to pass a same-sex marriage bill, and DFL Gov. Mark Dayton says he'll sign it.
The Star Tribune reports:
Legislators are getting pounded with e-mails, calls and visits from constituents on every side of the issue. Daily visits from the swarms of lobbyists on both sides are now the norm. Rep. Jerry Newton, DFL-Coon Rapids, on Monday got an e-mail with the subject line: "Don't mess with marriage in Minnesota!" The message pleaded with Newton to refrain from putting "the desires of a small group ahead of the fundamental human rights of all children."
Rep. Paul Marquart, DFL-Dilworth, is among a rare breed at the Capitol these days, a lawmaker undecided on the issue. "It's just a very, very personal issue for people," he said. "It's really unlike any other issue at the Capitol these days."
Freshman Rep. Jay McNamar, DFL-Elbow Lake, also continues to wrestle with the issue. The retired schoolteacher said that a neighbor on one side supports same-sex marriage and his other neighbor strongly opposes it. Both are former students.
McNamar said he will likely make up his mind on the issue the moment of the final vote.
If the House passes the bill and it moves on to the Senate, that body could vote on it as early as Saturday.