UPDATE: We're LIVE now. Click HERE.
Later today, Minnesota's Senate will be voting on the marriage equality bill passed by the House last week. Debate is scheduled to begin at 12 pm (1 pm ET). Please join us.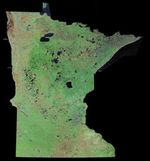 The bill is expected to pass, and would make Minnesota the first midwestern state to legislatively approve marriage equality and the 12th in the nation to offer it.
Over the weekend I posted a few Minnesota-related items. Hell's Kitchen, a Minneapolis restaurant, wants to host the first gay wedding and there's a way you can apply to be that couple.
And fallout from last week's House victory included one lawmaker crying on the House floor, though they weren't tears of joy: "My heart breaks for Minnesota," said a Rep. Peggy Scott, R-Andover. "It's a divisive issue that divides our state," she said, wiping tears from her eyes as she stood on the House floor after the vote. "It's not what we needed to be doing at this time. We want to come together for the state of Minnesota, we don't want to divide it."
Churches are split on the marriage bill, KARE reports. Watch their report filed over the weekend, AFTER THE JUMP…
"We are praying for our government leaders and those in St. Paul," says Matt Morrell, senior pastor of Fourth Baptist Church in Plymouth.  "We don't see this as a political or social issue, this is a Biblical issue."