Michael Douglas talks about playing Liberace  in the upcoming HBO biopic Behind the Candelabra, in a New York magazine cover story.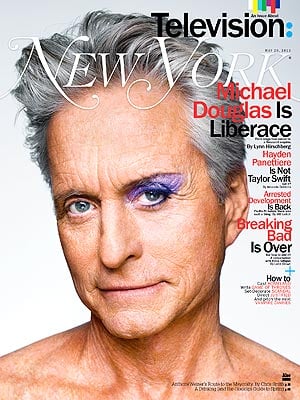 Says Douglas, of his love scenes with Matt Damon (who plays his younger lover Scott Thorson):
"Once you get that first kiss in, you are comfortable. Matt and I didn't rehearse the love scenes. We said, 'Well—we've read the script, haven't we?'  The hardest thing about sex scenes is that everybody is a judge. I don't know the last time you murdered somebody or blew anyone's brains out, but everyone has had sex and probably this morning, which means everyone has an opinion on how it should be done."
Douglas says the sex is not shied away from:
The sexual content—the gayness of Behind the Candelabra—made it a tough sell to the studios. It was originally conceived as a feature film rather than an HBO movie, but none of the major movie companies wanted to finance the film, which cost only $23 million and featured two major stars. "Everybody loved the script [by Richard LaGravenese, based on Scott Thorson's memoir of his life with Liberace]," said Jerry Weintraub, the veteran producer who worked with Elvis Presley and Frank Sinatra and knew Liberace. "The party line was that Behind the Candelabra would not appeal to anyone who is not gay. Interestingly, they forgot that Liberace's own audience in the fifties and sixties was not gay. It was purple-haired ladies who loved his act—he knew how to take the audience upside down, sideways, and backward. He was an artist, and yet, when I saw him at his house, he was free and open with his sexuality. There were men in every room! I didn't care—it just meant there were more women for me!"
Douglas adds, later:
"Liberace worked hard. When Scott Thorson became a drug addict and Liberace's work was imperiled, their relationship cratered. When I watch the movie, I forget it's Matt and me pretty quickly. And soon after that, I forget it's two guys. The fights, the love—it's a couple. There's always that moment in a relationship where somebody has gone too far or they've done something that can't be forgotten, and, suddenly, a little tendon is popped, and it never comes back. The only people you can forgive after something like that is your family. Lee tried, but he couldn't forgive Scott until he was about to die."
The film premieres May 26 on HBO. Here's the trailer if you missed it.